Apparently uni-brow spokesman and Oasis guitar player Noel Gallagher called out Thom Yorke for being too gloomy in an recent interview...
According to Gallagher, Yorke has to realize that at the end of the day the world is still going to end. Funny he should say that in an interview an not in the face of the cold-eyed killer himself...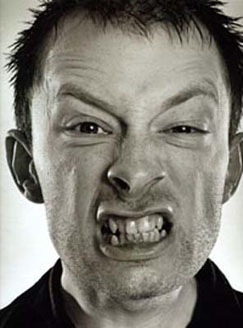 At the end of the day, anyone would rather listen to Thom Yorke over Oasis any day.