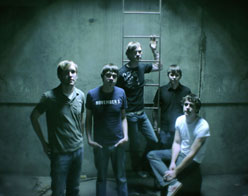 I think the whole lot of us are ready for the new Minus The Bear cd to come out in August. I really wonder what the new songs will sound like. What I do know is that they are going on tour again up until Sasquatch, so try to make one of these dates:
April 26: Seattle (Vera Project)
April 27: Portland, Ore. (Hawthorne Theatre)
April 28: Eugene, Ore. (Indigo District)
April 29: Reno, Nev. (The New Oasis)
May 1: Orangevale, Calif. (The Boardwalk)
May 2: Santa Cruz, Calif. (The Catalyst)
May 3: San Francisco (Great American Music Hall)
May 4: San Luis Obispo, Calif (Downtown Brew)
May 5: Los Angeles (Ex Plex)
May 6: Solana Beach, Calif. (Bely Up Tavern)
May 8: Las Vegas (House of Blues)
May 10: Colorado Springs, Colo. (The Black Sheep)
May 11: Lawrence, Kan. (Granada Theatre)
May 12: Iowa City, Iowa (Picador)
May 13: Champaign, Ill. (High Dive)
May 14: Sauget, Mo. (Pops)
May 15: Chicago (Beat Kitchen)
May 16: Milwaukee (Pabst Theatre)
May 17-18: Minneapolis (Triple Rock Social Club)
May 21: Omaha, Neb. (Sokol Underground)
May 23: Denver (Bluebird)
May 24: Aspen, Colo. (Belly Up)
May 25: Salt Lake City (Club Sound)
May 27: Quincy, Wash. (Gorge Amphitheatre)
I know they are some busy guys, but another Botch record or release from Sharks Keep Moving would be nice too.
http://www.minusthebear.com
http://www.myspace.com/minusthebear